Southern Urban and Interface Forests - What's New
Linkages between Forest Cover, Community Vitality, and Human Health in Atlanta
posted
Mar 26, 2019 05:09 PM
by
doutlaw

Proctor Creek snakes through downtown Atlanta and eventually works its way to the Chattahoochee River. Along the way it passes through both middle and lower income neighborhoods, including some of the most economically depressed areas of the city with high rates of poverty and crime. The waterway is plagued with illegal dumping, pollution, erosion, and high bacteria levels from regular stormwater flooding and sewage overflows. In 2013, Proctor Creek was named one of eleven Urban Waters Federal Partnership Projects, a project that aims to tackle the country's most polluted city waters and reconnect communities with their waterways. The partnership works to improve coordination and focus among federal agencies on problems in the watershed, as well as promote community-led efforts at economic, social, and ecological revitalization. As a part of the partnership, SRS-4952 is conducting three interconnected studies that will provide valuable information on the links between urban greenspace, ecosystem services, environmental justice, and human health. This issue of Leaves of Change focuses on these three studies and Kids in the Woods outreach activities.
Learn more at http://www.urbanforestrysouth.org/products/leaves/linkages-between-forest-cover-community-vitality-and-human-health-in-atlanta/index_html
Urban Forest Sustainability and Management Audit System
posted
Mar 26, 2019 05:09 PM
by
doutlaw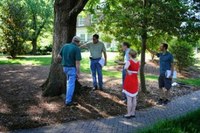 In 2014, Urban Forestry South developed and beta tested a new urban forest sustainability and management audit checklist and process (collectively referred to as an "audit system") at Agnes Scott College, a small woman's liberal arts college in Decatur, GA. Agnes Scott was a great location to try out this new system because it is a Tree Campus USA. This audit system is designed to provide a framework for internal (ad-hoc) audits by program managers or for independent evaluations by an external lead auditor and audit team.
Learn more at http://www.urbanforestrysouth.org/products/leaves/urban-forest-sustainability-and-management-audit-system/index_html
International Low Impact Development Conference 2015 - Synopsis
posted
Mar 10, 2015 09:13 AM
by
ekuehler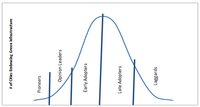 Trees and Green Infrastructure Performance
The goal of Green Infrastructure is to reduce stormwater runoff and pollutant loading to receiving waters.  Designed bioswales/bioretention structures have been shown to reduce runoff by as much as 97% annually mainly through soil infiltration and percolation.  Research from NC State has shown that as the amount of vegetation in these systems increases, pollution runoff decreases.
Trees can mitigate a portion of stormwater runoff through foliar interception and transpiration.  Even during the dormant season, tree achitecture can intercept a small portion of rainfall and direct the excess to the soil via stemflow.  Knowledge about the amounts of rainfall interception, transpiration, and stemflow in urban trees is lacking and more research is needed.  Design engineers are interested in using trees for their stormwater mitigation projects, but the lack of research regarding their ability to uptake nutrients and transpire water as well their vitality and longevity in these systems over time prevent them from including them as a green infrastructure best management protocol.
Factors Affecting Implementation of Green Infrastructure Technologies
Green Infrastructure extends beyond many departments within city government (stormwater management, streets, public works, parks and recreation, etc) and requires communication among all to properly plan, implement, and maintain. Most municipalities are set up in a bureaucratic system where coordination among departments is not common. The common question that cities are asking about Green Infrastructure is "Does it work" and "are we creating problems that we will have to fix later". Widespread use of GI is inhibited by various factors namely leadership (mayor, stormwater board, council, etc.), funding, technical capacity (adequately trained personnel), lack of technical information, risk aversion, fear of change, operation and maintenance concerns.
Where is Green Infrastructure in the Implementation Process?
Research was presented by Carli Flynn, a doctoral student from Syracuse University, showing where we are currently with GI implementation. She divided the population of all cities into five categories (pioneers, opinion leaders, early adopters, late adopters, and laggards) with respect to implementing Green Stormwater Infrastructure. Based on her survey results, it appears that we are still in the late pioneering section and entering the opinion leaders section (see figure). She suggested that the key components for municipalities to implement GI include leadership, collaboration, and education.
Arborists and Disaster Preparedness...
posted
Oct 08, 2014 12:43 PM
by
dhartel
Over 300 arborists attended the Mid-Atlantic Chapter of the International Society of Arboriculture (MAC-ISA) in Blacksburg, Virginia on October 6th and 7th.  The field day included several ANSI A300 presentations along with insect & disease, safety, soil, and other workshop topics.  Urban Forestry South (Dudley Hartel) presentation material for the workshop and conference include:
Urban Forest Strike Teams continue to evolve...
posted
Oct 30, 2014 02:06 PM
by
dhartel
The Urban Forest Strike Team (UFST) program was developed by state forestry agencies and the U.S. Forest Service in the Southern Region (Region 8) and is now being implemented in the northeastern and midwestern states (USDA FS Region 9, NA) with their partner the Massachusetts Tree Wardens & Foresters Association. Urban Forest Strike Teams provide professional recovery services to communities following ice storms, hurricanes, and other natural disasters. The UFST process includes recruiting, training, and deploying professional urban foresters and arborists to assess tree damage using FEMA guidelines and tree risk assessment standards.
Recently, the Arkansas Forestry Commission published their UFST resources into the Emergency Management Assistance Compact (EMAC), and the Virginia Department of Forestry is completing that process now.
On June 16th, the American Planning Association, International Society of Arboriculture, Utility Arborists, and USDA Forest Service (lead by the Northeaster Area) held a scoping session with FEMA, the Army Corps of Engineers, USDA disaster recovery directors, and others to discuss the management of trees an urban forests following natural disasters.
During the week of September 22nd, UFST team leaders, task specialists, workshop trainees and instructors conducted a mock disaster exercise in conjunction with the Georgia Emergency Management Agency (Dick Stokes, EMAC), the Georgia Forestry Commission (Susan Granbery), the Savannah Emergency Manager (Dan Stowers), and the City of Savannah arborist division (Jerry Fleming).
We introduced two new technologies to the participants in this 2 day exercise.  First, for most, was an introduction to ANSI A300 Part 9 level 1 risk assessment into our established UFST tree risk assessment protocol.
And second, with the assistance of the Georgia Forestry Commission (Charles Bailey), we tested the feasibility of using ArcGIS Online (AGOL) for UFST tree assessments.  Five exercise participants used a variety of smartdevices (iPad, Samsung Galaxy & Note smartphone, and Panasonic Toughpad to collect several hours of data.  This test was a good real-world experience and gave us very promising results in terms of ease of use and data accuracy using GPS or digitizing in the field.
We will continue to test useability and accuracy over the next few weeks with hopes of a full scale UFST test at the Fayetteville (AK) mock exercise in late November.
Young Scientists Find Nature in Their Own Backyards
posted
May 31, 2018 03:19 AM
by
doutlaw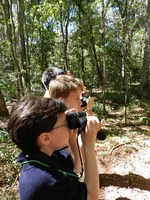 In this issue of Leaves of Change you will learn about a project that engages 6th grade students from Westwood Middle School in Gainesville, Florida, in outdoor science learning activities in the nearby Loblolly Woods Nature Park. Spurred on by a grant from the US Forest Service's More Kids in the Woods initiative, the school project kicked off in the fall of 2013. Through this project, students are learning outdoors while also gaining first-hand experience with the scientific method—developing hypotheses, collecting data, doing analysis, and drawing conclusions. Some of the main objectives of the project are for students to become more aware and connected to their local environment and exposed to careers in science and natural resources, as well as increased teacher participation in providing outdoor learning experiences for students. Over three hundred sixth graders and three science teachers are participating in the project this year.
Click here to learn more about this project highlighted in our latest issue of Leaves of Change.

Learn more at http://www.urbanforestrysouth.org/products/leaves/young-scientisit-find-nature-in-their-own-backyards/index_html
posted
May 31, 2018 03:19 AM
by
doutlaw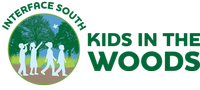 Check out our new Kids in the Woods blog for updates on our project with Westwood Middle School, the University of Florida, Gainesville Parks, Recreation, and Cultural Affairs, and Alachua County Environmental Protection Department. We will also be providing information about other actvities related to children and nature.
Learn more at http://kidsinwoods-interfacesouth.org/
Northern Virginia Urban Forestry & Disaster Planning
posted
Feb 22, 2014 12:22 PM
by
dhartel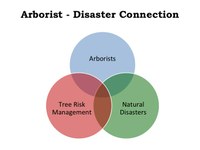 Nebraska Arborists Prepare for Disaster
posted
Jan 27, 2014 05:05 PM
by
dhartel
At the Great Plains Conference in Lincoln, the Nebraska Arborists Association heard from several speakers on the topics of tree risk.  The links that follow are presentations by Urban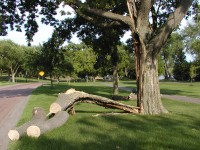 Forestry South (Dudley Hartel) on the role of professional arborists in disaster preparedness and response:
Planning for Disaster - Arborists Professional Role
Disaster Response – UFST and Municipal Arborists
Handouts included:
Disaster Resources for Urban Foresters
Double Jeopardy: Mapping Social Vulnerability and Climate Change in Georgia
posted
May 31, 2018 03:19 AM
by
doutlaw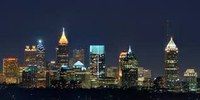 In this issue of Leaves of Change you will learn about a recent study in Georgia that addressed two key questions: Will the physical effects of climate change be more apparent in some areas? Will certain populations and communities be affected more than others? You will also learn about the Centers' recent training and outreach activities, recommended resources, and upcoming events related to urban and interface forestry.
Learn more at http://www.urbanforestrysouth.org/products/leaves/double-jeopardy-mapping-social-vulnerability-and-climate-change-in-georgia/index_html