Southern Urban and Interface Forests - What's New
Young Scientists Find Nature in Their Own Backyards
posted
May 31, 2018 03:19 AM
by
doutlaw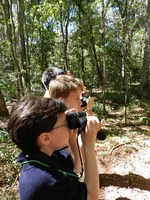 In this issue of Leaves of Change you will learn about a project that engages 6th grade students from Westwood Middle School in Gainesville, Florida, in outdoor science learning activities in the nearby Loblolly Woods Nature Park. Spurred on by a grant from the US Forest Service's More Kids in the Woods initiative, the school project kicked off in the fall of 2013. Through this project, students are learning outdoors while also gaining first-hand experience with the scientific method—developing hypotheses, collecting data, doing analysis, and drawing conclusions. Some of the main objectives of the project are for students to become more aware and connected to their local environment and exposed to careers in science and natural resources, as well as increased teacher participation in providing outdoor learning experiences for students. Over three hundred sixth graders and three science teachers are participating in the project this year.
Click here to learn more about this project highlighted in our latest issue of Leaves of Change.

Learn more at http://www.urbanforestrysouth.org/products/leaves/young-scientisit-find-nature-in-their-own-backyards/index_html
Green Schools National Conference 2013
posted
May 31, 2018 03:19 AM
by
doutlaw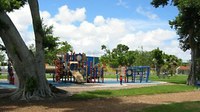 Come to the 3rd Annual Green Schools National Conference in West Palm Beach, February 22-24, 2013. The goal of the conference is to connect like-minded and passionate education, non-profit, corporate, and public sector individuals and organizations that help advance the national green and healthy schools movement.
To learn more about this conference click here.
PollinatorLIVE Webinar "Student Achievement and Outdoor Education", October 12, 3 - 4 pm EST
posted
May 31, 2018 03:19 AM
by
doutlaw
PollinatorLIVE is offering a free web seminar for teachers, administrators, and others on "Student Achievement and Outdoor Education" on Tuesday, October 12 from 3 to 4 p.m. through the National School Boards Association. For information, go to http://pollinatorlive.pwnet.org/teacher/seminars.php and to register go to http://www.surveymonkey.com/s/StudentAchievementOutdoorEducation.
This is an online web seminar presenting information about the positive impact that outdoor learning has on student achievement. Lifestyle changes over the past decade have had a profound affect on student health, activities, habits, and interests. School administrators, teachers, parents, and public health officials are growing increasingly concerned at the rising incidences of childhood obesity, juvenile diabetes, and related health problems. In contrast, the statistics about young people learning in the outdoors are very positive. George Mason University Assistant Professor Laurie Harmon, USDA Forest Service Urban and Community Program Specialist Mike Rizo, and Washington, D.C. Principal Dr. Grace Reid will present information on the benefits of gardening and outdoor education.
Changing Roles Webinar Series 2011
posted
May 31, 2018 03:19 AM
by
doutlaw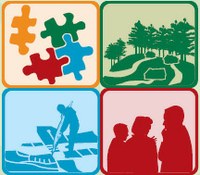 This 4-part webinar series will focus on the theme "Considering Natural Resources in Land-Use Decision Making Processes." Natural resource professionals often refer to "being at the table" in reference to their participation in multi-stakeholder processes such as land-use planning. Therefore we use the same language is used in the session titles of this series. Each session will address the theme from a different perspective.
Session Details:
October 12th, 12:00-1:00 pm EST
Why should we be at the table?Natural resource managers' perspective
(Susan Stein, Private Forest Studies Coordinator, US Forest Service)
October 17th, 12:00 pm-1:00 pm EST
Why we need you at the table? and How do you get to the table? Land-use planners' perspectives (Craig Diamond, Environmental Economist, Consultant)
November 10th, 12:00-1:00 pm EST
What happens when we are at the table together? A case study from Sumner County, Tennessee (Dwight Barnett, Area Forester, Tennessee Division of Forestry and Michael Briggs, Transportation Planner, Metropolitan Nashville Planning Department)
November 18th, 12:00-1:00 pm EST
What do you do when people start throwing food at the table? A conflict management perspective (Steve Smutko, Spicer Chair of Collaborative Practice, University of Wyoming, Department of Agriculture and Applied Economics)
Who should participate?
Natural resource professionals who want to learn more about wildland-urban interface issues, opportunities, and strategies.
Can I receive continuing education credit?
The CR webinar series provides a convenient, free professional development option for busy professionals who want to earn continuing education credits without paying travel expenses or taking time off work. Participants who log in to the liver session may be eligible for Society of American Foresters and International Society of Aboriculture continuing education credits. The archived sessions can be viewed for continuing education credits for up to one year.

Click here for session details and for more information on how to access the webinar. You can also earn more about the Changing Roles Professional Development program by clicking here.
Vist us at the Kanapaha Spring Garden Festival, March 26-27, 2011
posted
May 31, 2018 03:30 AM
by
doutlaw
We will have a booth at the Kanapaha Spring Garden Festival in Gainesville, Florida this weekend, March 26-27.. This festival features about 200 booths offering plants, landscape displays, garden accessories, arts and crafts, educational exhibits, and foods. Also featured are a walk-through butterfly conservatory, children's activities area, live entertainment and auctions, both live and silent.
For more information visit: http://www.gardenfestival.org/

International Year of Forests 2011
posted
May 31, 2018 03:19 AM
by
doutlaw
The United Nations (UN) General Assembly designated 2011 as International Year of Forests (IYOF). This designation provides an excellent platform to increase awareness of the connections between healthy forests, ecosystems, people, societies, and economies.
Additional information can be found at the UN website: http://www.un.org/en/events/iyof2011/.