Southern Urban and Interface Forests - What's New
Leaves of Change Issue 9: Cultural Issues in Forest Management
posted
May 31, 2018 03:19 AM
by
doutlaw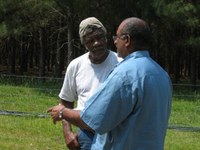 In this issue, we highlight a research project headed by John Schelhas (SRS-4952 natural resource sociologist) that is helping to describe social networks among African American forest landowners as well as forest and land values and identities, forest practices, and forest histories. The findings of this project are helping to illuminate a crucial disconnect in forestry and extension efforts, and have subsequently led to outreach efforts designed specifically to connect with underserved landowner groups.
Click here to view this issue. To view the accompanying case study insert click here.
To view past issues of Leaves of Change click here.