Southern Urban and Interface Forests - What's New
Category
-
Urban forestry
Urban Tree Canopy Assessment: A Community's Path to Understanding and Managing the Urban Forest
posted
Oct 03, 2019 12:36 PM
by
ahermansen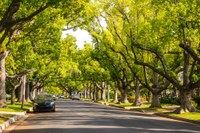 An Urban Tree Canopy (UTC) assessment provides a measure of a community's tree canopy cover at high resolution, and is often used for establishing and implementing municipal tree canopy goals as part of broader urban greening and sustainability initiatives. The USDA Forest Service has produced a new report detailing the initial steps of UTC project planning, assessment, and data analysis, including general guidelines for conducting assessments and analysis to ensure useful, quality results that can be applied in planning, management, and decision-making .The report can be accessed on the Vibrant Cities Lab, an innovative multi-faceted web platform that can help professionals, policymakers, and the public access the best available science, understand the value of investing in our urban and community forests, and take concrete steps to plant better, more effective and efficient urban and community forestry programs.
Learn more at https://www.vibrantcitieslab.com/resources/forest-service-guide-to-urban-tree-canopy-assessment/
Linkages between Forest Cover, Community Vitality, and Human Health in Atlanta
posted
Mar 26, 2019 05:09 PM
by
doutlaw

Proctor Creek snakes through downtown Atlanta and eventually works its way to the Chattahoochee River. Along the way it passes through both middle and lower income neighborhoods, including some of the most economically depressed areas of the city with high rates of poverty and crime. The waterway is plagued with illegal dumping, pollution, erosion, and high bacteria levels from regular stormwater flooding and sewage overflows. In 2013, Proctor Creek was named one of eleven Urban Waters Federal Partnership Projects, a project that aims to tackle the country's most polluted city waters and reconnect communities with their waterways. The partnership works to improve coordination and focus among federal agencies on problems in the watershed, as well as promote community-led efforts at economic, social, and ecological revitalization. As a part of the partnership, SRS-4952 is conducting three interconnected studies that will provide valuable information on the links between urban greenspace, ecosystem services, environmental justice, and human health. This issue of Leaves of Change focuses on these three studies and Kids in the Woods outreach activities.
Learn more at http://www.urbanforestrysouth.org/products/leaves/linkages-between-forest-cover-community-vitality-and-human-health-in-atlanta/index_html
Urban Forest Sustainability and Management Audit System
posted
Mar 26, 2019 05:09 PM
by
doutlaw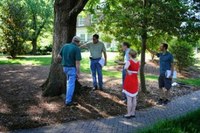 In 2014, Urban Forestry South developed and beta tested a new urban forest sustainability and management audit checklist and process (collectively referred to as an "audit system") at Agnes Scott College, a small woman's liberal arts college in Decatur, GA. Agnes Scott was a great location to try out this new system because it is a Tree Campus USA. This audit system is designed to provide a framework for internal (ad-hoc) audits by program managers or for independent evaluations by an external lead auditor and audit team.
Learn more at http://www.urbanforestrysouth.org/products/leaves/urban-forest-sustainability-and-management-audit-system/index_html
Leaves of Change Issue 13: iTree and Air Pollution in DeSoto County, Mississippi
posted
May 31, 2018 03:19 AM
by
doutlaw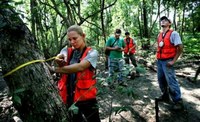 Across the South, rapid urbanization is transforming previously rural areas and creating new environmental challenges. Desoto County sits in the northwestern corner of Mississippi, across the state line from the city of Memphis. Since 1970, the county has experienced an increase in population of 430 percent, growing from 36,000 people in 1970 to 159,000 in 2010. Along with the population growth, urban development, roads, and traffic have increased tremendously and introduced serious air and water quality problems to the traditionally agricultural county.
The Environmental Protection Agency (EPA) has included Desoto County with Memphis in an ozone "non-attainment" area, meaning that ozone emissions are above allowable limits set by federal regulation. Ground level ozone, the main ingredient in smog, can trigger asthma attacks and causes lung damage. The ruling will likely mean that the state will have to take expensive actions to reduce pollution emissions from cars and commercial/industrial sources.
One group, led by the county extension director, Joy Anderson, is hoping that the urban tree canopy can play a part in the solution, and return Desoto County to attainment status. Working with Eric Kuehler, technology transfer specialist for Urban Forestry South, Desoto County conducted a series of iTree analyses including iTree Eco, Canopy and Vue. Using local volunteers and forestry students from Mississippi State University to collect the data, the county assessed over 250, 1/10th acre plots randomly located within five land class categories. The data allowed for an assessment of the structure, function, and value of the urban forest in terms of size and make-up of the urban canopy and its role in removing air pollution and sequestering carbon.
Learn more at http://www.urbanforestrysouth.org/products/leaves/itree-and-air-pollution-in-desoto-county-mississippi/index_html
Leaves of Change Issue 12: The Tampa Bay Watershed: Building Understanding of a Rapidly Urbanizing Ecosystem
posted
May 31, 2018 03:19 AM
by
doutlaw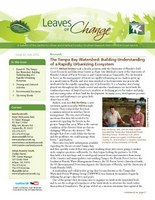 In this issue of our quarterly bulletin, titled Leaves of Change, you will learn about a collaborative project that is creating a scientific framework for the ecological assessment and sustainable management of the Tampa Bay watershed's trees and forested ecosystems along the urban-wildland continuum. You will also learn about the Centers' recent training and outreach activities, recommended resources, and upcoming events related to urban and interface forestry.
Learn more at http://www.urbanforestrysouth.org/products/leaves
Upcoming Webinar: Social Networking Tools for Urban Forestry
posted
May 31, 2018 03:19 AM
by
doutlaw

Wednesday, April 20, 2011, 11:00 AM (Eastern)
The next Urban Natural Resources Institute Informational Webcast will take place on April 20th and will provide an overview of social networking tools to communicate and develop new audiences for urban natural resource programs and outreach.This session will be presented by Melanie R. Kirk, Assistant Professor & Extension Urban Forestry Specialist, Texas AgriLife Extension Service.
http://www.unri.org/webcasts/#social
Learn more at http://www.unri.org/webcasts/#social
The Alliance for Community Trees Hosts Webinar on Carbon Markets for Urban Forests
posted
May 31, 2018 03:19 AM
by
doutlaw

January 20, 2011
1:00 - 2:00pm EST
National Webcast
With emissions regulations on the horizon in the U.S., there is rising interest in the carbon sequestration and storage functions of urban trees. How does this unique function present a potential funding opportunity for municipal or nonprofit organizations? Carbon markets deal in the buying and selling of credits for emissions of greenhouse gases like carbon dioxide. Trees remove carbon dioxide from the atmosphere and store the carbon in their trunks, branches, leaves, and roots. Local community groups engaged in restoring urban tree canopy may have a valuable role to play in carbon markets by developing or participating in mitigation and offset projects.
Register for the free webcast here: http://www.surveymonkey.com/s/bbls_11jan20
Leaves of Change Issue (8) i-Tree: Putting a Value on the Urban Forest
posted
May 31, 2018 03:19 AM
by
doutlaw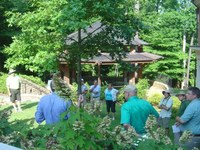 Urban foresters have long known of the benefits that urban trees provide to communities from reducing the heat island effect, controlling runoff, and improving air quality. However, most have struggled to get other city officials to view urban forestry programs as much more than a beautification program. Now, using a suite of software tools called i-Tree, urban foresters can put a dollar figure on the environmental services that the tree canopy provides to a city, and provide support for their argument that the urban forest is a valuable part of the urban infrastructure, and, as such, deserves substantial investment for improvement and maintenance. This issue of Leaves of Change focuses on the work that Urban Forestry South and partners are doing to put i-Tree to use in support of urban forestry programs and communities across the South.
Click here to view this issue.
New Report Helps Sustain America's Urban Trees and Forests
posted
May 31, 2018 03:19 AM
by
doutlaw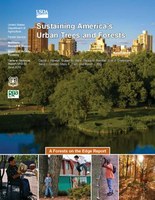 A USDA Forest Service, Northern Research Station (NRS) report released in September 2010, Sustaining America's Urban Trees and Forests, can help those who manage and care about urban trees and forests to increase public awareness of their importance, their many benefits, and the various factors that challenge the management of these critical resources.
Both electronic and printed copies of Sustaining America's Urban Trees and Forests can be ordered at www.nrs.fs.fed.us/pubs/35572 .
Learn more at http://www.nrs.fs.fed.us/pubs/35572