Southern Urban and Interface Forests - What's New
National Team Takes a Unique Approach to Urban Forest Techonology and Science Delivery
posted
Mar 27, 2019 09:15 AM
by
doutlaw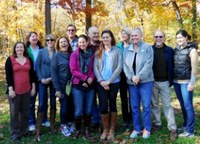 The Forest Service's National Urban Forest Technology and Science Delivery Team (NTSD) was formed in November 2013 with the goal of improving the agency's ability to deliver state-of-the-knowledge information to city planners and natural resource practitioners, in the most rapid and accessible ways possible.
Learn more at http://www.urbanforestrysouth.org/products/leaves/national-team-takes-a-unique-approach-to-urban-forest-technology-and-science-delivery/index_html
Urban Forest Sustainability and Management Audit System
posted
Mar 26, 2019 05:09 PM
by
doutlaw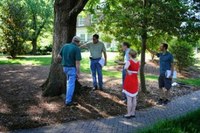 In 2014, Urban Forestry South developed and beta tested a new urban forest sustainability and management audit checklist and process (collectively referred to as an "audit system") at Agnes Scott College, a small woman's liberal arts college in Decatur, GA. Agnes Scott was a great location to try out this new system because it is a Tree Campus USA. This audit system is designed to provide a framework for internal (ad-hoc) audits by program managers or for independent evaluations by an external lead auditor and audit team.
Learn more at http://www.urbanforestrysouth.org/products/leaves/urban-forest-sustainability-and-management-audit-system/index_html
Leaves of Change Issue 13: iTree and Air Pollution in DeSoto County, Mississippi
posted
May 31, 2018 03:19 AM
by
doutlaw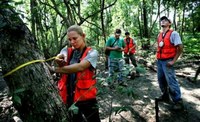 Across the South, rapid urbanization is transforming previously rural areas and creating new environmental challenges. Desoto County sits in the northwestern corner of Mississippi, across the state line from the city of Memphis. Since 1970, the county has experienced an increase in population of 430 percent, growing from 36,000 people in 1970 to 159,000 in 2010. Along with the population growth, urban development, roads, and traffic have increased tremendously and introduced serious air and water quality problems to the traditionally agricultural county.
The Environmental Protection Agency (EPA) has included Desoto County with Memphis in an ozone "non-attainment" area, meaning that ozone emissions are above allowable limits set by federal regulation. Ground level ozone, the main ingredient in smog, can trigger asthma attacks and causes lung damage. The ruling will likely mean that the state will have to take expensive actions to reduce pollution emissions from cars and commercial/industrial sources.
One group, led by the county extension director, Joy Anderson, is hoping that the urban tree canopy can play a part in the solution, and return Desoto County to attainment status. Working with Eric Kuehler, technology transfer specialist for Urban Forestry South, Desoto County conducted a series of iTree analyses including iTree Eco, Canopy and Vue. Using local volunteers and forestry students from Mississippi State University to collect the data, the county assessed over 250, 1/10th acre plots randomly located within five land class categories. The data allowed for an assessment of the structure, function, and value of the urban forest in terms of size and make-up of the urban canopy and its role in removing air pollution and sequestering carbon.
Learn more at http://www.urbanforestrysouth.org/products/leaves/itree-and-air-pollution-in-desoto-county-mississippi/index_html
posted
Aug 05, 2012 10:17 AM
by
dhartel
Even an arborist can develop apps for Android smart-devices with this on-line site developed and hosted by MIT.
A Google account and a quick setup on Mac or Windows will get you started.  Use the on-line tutorials and forum to jump-start your creativity.
Learn more at http://explore.appinventor.mit.edu/
posted
May 28, 2018 09:31 PM
by
doutlaw

The website for Urban Forestry South (southern region's technology transfer center) has been rebuilt from the ground up.  New content will appear daily as we catch up following our transition.
Much of the site will look familiar but you'll now have a more active site with current blog and Twitter feeds related to the technology of trees.
Learn more at https://urbanforestrysouth.org
Upcoming Webinar: Social Networking Tools for Urban Forestry
posted
May 31, 2018 03:19 AM
by
doutlaw

Wednesday, April 20, 2011, 11:00 AM (Eastern)
The next Urban Natural Resources Institute Informational Webcast will take place on April 20th and will provide an overview of social networking tools to communicate and develop new audiences for urban natural resource programs and outreach.This session will be presented by Melanie R. Kirk, Assistant Professor & Extension Urban Forestry Specialist, Texas AgriLife Extension Service.
http://www.unri.org/webcasts/#social
Learn more at http://www.unri.org/webcasts/#social
Leaves of Change Issue (8) i-Tree: Putting a Value on the Urban Forest
posted
May 31, 2018 03:19 AM
by
doutlaw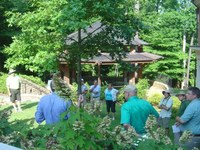 Urban foresters have long known of the benefits that urban trees provide to communities from reducing the heat island effect, controlling runoff, and improving air quality. However, most have struggled to get other city officials to view urban forestry programs as much more than a beautification program. Now, using a suite of software tools called i-Tree, urban foresters can put a dollar figure on the environmental services that the tree canopy provides to a city, and provide support for their argument that the urban forest is a valuable part of the urban infrastructure, and, as such, deserves substantial investment for improvement and maintenance. This issue of Leaves of Change focuses on the work that Urban Forestry South and partners are doing to put i-Tree to use in support of urban forestry programs and communities across the South.
Click here to view this issue.