Southern Urban and Interface Forests - What's New
Double Jeopardy: Mapping Social Vulnerability and Climate Change in Georgia
posted
May 31, 2018 03:19 AM
by
doutlaw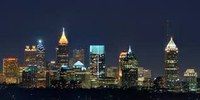 In this issue of Leaves of Change you will learn about a recent study in Georgia that addressed two key questions: Will the physical effects of climate change be more apparent in some areas? Will certain populations and communities be affected more than others? You will also learn about the Centers' recent training and outreach activities, recommended resources, and upcoming events related to urban and interface forestry.
Learn more at http://www.urbanforestrysouth.org/products/leaves/double-jeopardy-mapping-social-vulnerability-and-climate-change-in-georgia/index_html
Partnership Spurs Diversity Outreach Projects in Texas
posted
Apr 11, 2019 11:33 AM
by
doutlaw
Years ago, John Warner, an urban district forester with the Texas A&M Forest Service and a longtime InterfaceSouth partner, recognized that landownership patterns in the southeastern part of the state around Houston were changing rapidly. Latino, Chinese, and Vietnamese families from Houston were moving to the interface and buying 5–20 acre tracts of forestland within his rapidly growing multi-county district. He realized that the agency was going to have to change its communication approach to reach many of these new forest landowners. "As an agency, we know how to communicate with traditional landowners," says Warner. "However, outreach to different ethnic groups is something new for us."
In 2007, an opportunity to reach these new landowners presented itself when Warner met Tamberly Conway, a graduate student in the College of Forestry and Agriculture at Stephen F. Austin State University. Conway was working with Latino Legacy, a program established by the university and funded by the USDA Forest Service's [USFS] More Kids in the Woods program to connect Latino communities with the public lands and forestlands in the Houston area through bilingual conservation education programming. (Conway has since been hired by the USFS as a conservation education specialist working remotely in Texas for the USFS's office in Washington, D.C.)
Learn more at https://www.urbanforestrysouth.org/products/newsletters/leaves/leaves-bulletin/partnership-spurs-diversity-outreach-projects-in-texas/index_html
Leaves of Change Issue 9: Cultural Issues in Forest Management
posted
May 31, 2018 03:19 AM
by
doutlaw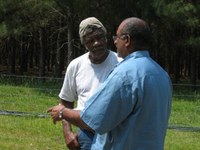 In this issue, we highlight a research project headed by John Schelhas (SRS-4952 natural resource sociologist) that is helping to describe social networks among African American forest landowners as well as forest and land values and identities, forest practices, and forest histories. The findings of this project are helping to illuminate a crucial disconnect in forestry and extension efforts, and have subsequently led to outreach efforts designed specifically to connect with underserved landowner groups.
Click here to view this issue. To view the accompanying case study insert click here.
To view past issues of Leaves of Change click here.