Southern Urban and Interface Forests - What's New
Category
-
Leaves of Change
National Team Takes a Unique Approach to Urban Forest Techonology and Science Delivery
posted
Mar 27, 2019 09:15 AM
by
doutlaw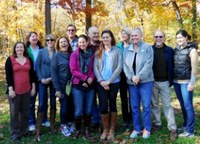 The Forest Service's National Urban Forest Technology and Science Delivery Team (NTSD) was formed in November 2013 with the goal of improving the agency's ability to deliver state-of-the-knowledge information to city planners and natural resource practitioners, in the most rapid and accessible ways possible.
Learn more at http://www.urbanforestrysouth.org/products/leaves/national-team-takes-a-unique-approach-to-urban-forest-technology-and-science-delivery/index_html
Linkages between Forest Cover, Community Vitality, and Human Health in Atlanta
posted
Mar 26, 2019 05:09 PM
by
doutlaw

Proctor Creek snakes through downtown Atlanta and eventually works its way to the Chattahoochee River. Along the way it passes through both middle and lower income neighborhoods, including some of the most economically depressed areas of the city with high rates of poverty and crime. The waterway is plagued with illegal dumping, pollution, erosion, and high bacteria levels from regular stormwater flooding and sewage overflows. In 2013, Proctor Creek was named one of eleven Urban Waters Federal Partnership Projects, a project that aims to tackle the country's most polluted city waters and reconnect communities with their waterways. The partnership works to improve coordination and focus among federal agencies on problems in the watershed, as well as promote community-led efforts at economic, social, and ecological revitalization. As a part of the partnership, SRS-4952 is conducting three interconnected studies that will provide valuable information on the links between urban greenspace, ecosystem services, environmental justice, and human health. This issue of Leaves of Change focuses on these three studies and Kids in the Woods outreach activities.
Learn more at http://www.urbanforestrysouth.org/products/leaves/linkages-between-forest-cover-community-vitality-and-human-health-in-atlanta/index_html
Urban Forest Sustainability and Management Audit System
posted
Mar 26, 2019 05:09 PM
by
doutlaw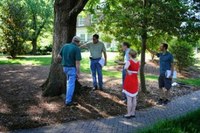 In 2014, Urban Forestry South developed and beta tested a new urban forest sustainability and management audit checklist and process (collectively referred to as an "audit system") at Agnes Scott College, a small woman's liberal arts college in Decatur, GA. Agnes Scott was a great location to try out this new system because it is a Tree Campus USA. This audit system is designed to provide a framework for internal (ad-hoc) audits by program managers or for independent evaluations by an external lead auditor and audit team.
Learn more at http://www.urbanforestrysouth.org/products/leaves/urban-forest-sustainability-and-management-audit-system/index_html
Young Scientists Find Nature in Their Own Backyards
posted
May 31, 2018 03:19 AM
by
doutlaw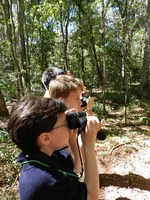 In this issue of Leaves of Change you will learn about a project that engages 6th grade students from Westwood Middle School in Gainesville, Florida, in outdoor science learning activities in the nearby Loblolly Woods Nature Park. Spurred on by a grant from the US Forest Service's More Kids in the Woods initiative, the school project kicked off in the fall of 2013. Through this project, students are learning outdoors while also gaining first-hand experience with the scientific method—developing hypotheses, collecting data, doing analysis, and drawing conclusions. Some of the main objectives of the project are for students to become more aware and connected to their local environment and exposed to careers in science and natural resources, as well as increased teacher participation in providing outdoor learning experiences for students. Over three hundred sixth graders and three science teachers are participating in the project this year.
Click here to learn more about this project highlighted in our latest issue of Leaves of Change.

Learn more at http://www.urbanforestrysouth.org/products/leaves/young-scientisit-find-nature-in-their-own-backyards/index_html
posted
May 31, 2018 03:19 AM
by
doutlaw

Visit our newest form of communication - the Leaves of Change Weekly. This Wordpress site includes informational posts about upcoming conferences, Center activities, links to related articles, job announcements, and much more. You can sign up for the weekly to bi-weekly newsletter on the site at: www.leavesofchangeweekly.org
Leaves of Change Issue 13: iTree and Air Pollution in DeSoto County, Mississippi
posted
May 31, 2018 03:19 AM
by
doutlaw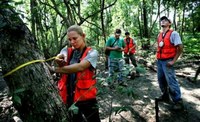 Across the South, rapid urbanization is transforming previously rural areas and creating new environmental challenges. Desoto County sits in the northwestern corner of Mississippi, across the state line from the city of Memphis. Since 1970, the county has experienced an increase in population of 430 percent, growing from 36,000 people in 1970 to 159,000 in 2010. Along with the population growth, urban development, roads, and traffic have increased tremendously and introduced serious air and water quality problems to the traditionally agricultural county.
The Environmental Protection Agency (EPA) has included Desoto County with Memphis in an ozone "non-attainment" area, meaning that ozone emissions are above allowable limits set by federal regulation. Ground level ozone, the main ingredient in smog, can trigger asthma attacks and causes lung damage. The ruling will likely mean that the state will have to take expensive actions to reduce pollution emissions from cars and commercial/industrial sources.
One group, led by the county extension director, Joy Anderson, is hoping that the urban tree canopy can play a part in the solution, and return Desoto County to attainment status. Working with Eric Kuehler, technology transfer specialist for Urban Forestry South, Desoto County conducted a series of iTree analyses including iTree Eco, Canopy and Vue. Using local volunteers and forestry students from Mississippi State University to collect the data, the county assessed over 250, 1/10th acre plots randomly located within five land class categories. The data allowed for an assessment of the structure, function, and value of the urban forest in terms of size and make-up of the urban canopy and its role in removing air pollution and sequestering carbon.
Learn more at http://www.urbanforestrysouth.org/products/leaves/itree-and-air-pollution-in-desoto-county-mississippi/index_html
Leaves of Change Issue 12: The Tampa Bay Watershed: Building Understanding of a Rapidly Urbanizing Ecosystem
posted
May 31, 2018 03:19 AM
by
doutlaw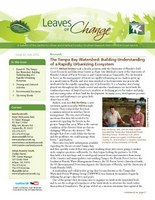 In this issue of our quarterly bulletin, titled Leaves of Change, you will learn about a collaborative project that is creating a scientific framework for the ecological assessment and sustainable management of the Tampa Bay watershed's trees and forested ecosystems along the urban-wildland continuum. You will also learn about the Centers' recent training and outreach activities, recommended resources, and upcoming events related to urban and interface forestry.
Learn more at http://www.urbanforestrysouth.org/products/leaves
Leaves of Change Issue 9: Cultural Issues in Forest Management
posted
May 31, 2018 03:19 AM
by
doutlaw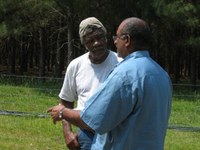 In this issue, we highlight a research project headed by John Schelhas (SRS-4952 natural resource sociologist) that is helping to describe social networks among African American forest landowners as well as forest and land values and identities, forest practices, and forest histories. The findings of this project are helping to illuminate a crucial disconnect in forestry and extension efforts, and have subsequently led to outreach efforts designed specifically to connect with underserved landowner groups.
Click here to view this issue. To view the accompanying case study insert click here.
To view past issues of Leaves of Change click here.
Leaves of Change Issue (8) i-Tree: Putting a Value on the Urban Forest
posted
May 31, 2018 03:19 AM
by
doutlaw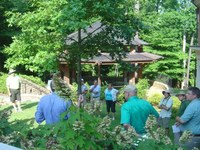 Urban foresters have long known of the benefits that urban trees provide to communities from reducing the heat island effect, controlling runoff, and improving air quality. However, most have struggled to get other city officials to view urban forestry programs as much more than a beautification program. Now, using a suite of software tools called i-Tree, urban foresters can put a dollar figure on the environmental services that the tree canopy provides to a city, and provide support for their argument that the urban forest is a valuable part of the urban infrastructure, and, as such, deserves substantial investment for improvement and maintenance. This issue of Leaves of Change focuses on the work that Urban Forestry South and partners are doing to put i-Tree to use in support of urban forestry programs and communities across the South.
Click here to view this issue.
Leaves of Change Issue 7: Outdoor Recreation in the South
posted
May 31, 2018 03:19 AM
by
doutlaw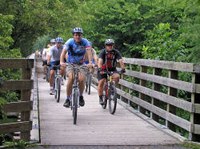 This issue of Leaves of Change focuses on outdoor recreation in the South, specifically focusing on the economic benefits that recreational trails can bring to communities. Michael Bowker (SRS research social scientist) has been studying the role of trail tourism in sparking economic life into rural areas in the South. In the case of the Virginia Creeper Trail, a railroad line built to haul harvested timber has been converted into a widely popular biking trail that has helped to revitalize communities who have suffered from economic shifts in the region.
Learn more at http://www.urbanforestrysouth.org/products/leaves/outdoor-recreation-in-the-south/index_html