Southern Urban and Interface Forests - What's New
posted
May 28, 2018 09:31 PM
by
doutlaw

The website for Urban Forestry South (southern region's technology transfer center) has been rebuilt from the ground up.  New content will appear daily as we catch up following our transition.
Much of the site will look familiar but you'll now have a more active site with current blog and Twitter feeds related to the technology of trees.
Learn more at https://urbanforestrysouth.org
Leaves of Change Issue 12: The Tampa Bay Watershed: Building Understanding of a Rapidly Urbanizing Ecosystem
posted
May 31, 2018 03:19 AM
by
doutlaw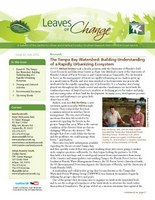 In this issue of our quarterly bulletin, titled Leaves of Change, you will learn about a collaborative project that is creating a scientific framework for the ecological assessment and sustainable management of the Tampa Bay watershed's trees and forested ecosystems along the urban-wildland continuum. You will also learn about the Centers' recent training and outreach activities, recommended resources, and upcoming events related to urban and interface forestry.
Learn more at http://www.urbanforestrysouth.org/products/leaves