Southern Urban and Interface Forests - What's New
Selecting Firewise Shrubs to Reduce Wildfire Risk
posted
May 31, 2018 03:19 AM
by
doutlaw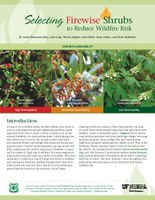 This new publication, jointly developed by InterfaceSouth and the Unversity of Florida IFAS, can help you select shrubs for your landscape, particularly for homes in the southern United States.
To view this publication, click here.
Vist us at the Kanapaha Spring Garden Festival, March 26-27, 2011
posted
May 31, 2018 03:30 AM
by
doutlaw
We will have a booth at the Kanapaha Spring Garden Festival in Gainesville, Florida this weekend, March 26-27.. This festival features about 200 booths offering plants, landscape displays, garden accessories, arts and crafts, educational exhibits, and foods. Also featured are a walk-through butterfly conservatory, children's activities area, live entertainment and auctions, both live and silent.
For more information visit: http://www.gardenfestival.org/