Southern Urban and Interface Forests - What's New
Loblolly Woods Helps Teach Young Scientists
posted
May 31, 2018 03:19 AM
by
doutlaw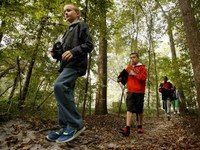 By Erin Jester
Gainesville Sun
More Gainesville students are walking in the woods this year, thanks in part to a nearly $14,000 grant from the U.S. Forest Service.
Westwood Middle School sixth-graders are spending this school year collecting data on wildlife and the environment in Loblolly Woods alongside scientists and teachers.
"There are a lot of benefits," said Annie Hermansen-Baez, a scientist with the U.S. Forest Service. Students get out of the classroom and experience the woods that are right in their own backyard.
The entire sixth-grade class at Westwood is working in Loblolly Woods, which adjoins the school.
The project is funded through the U.S. Forest Service's More Kids in the Woods initiative, and was the project funded in Florida this year.
More Kids in the Woods seeks to connect children with the outdoors. This year, the Forest Service selected about 30 projects with that goal for funding.
Also lending a hand to the project are Gainesville Parks, Recreation and Cultural Affairs; the Alachua County Environmental Protection Department; the University of Florida's School of Forest Resources and Conservation; and Camp Crystal Lake, which will organize a school camp-out and nighttime nature walk in the spring.
To view the full article visit: http://leavesofchangeweekly.org/2013/10/31/loblolly-woods-helps-teach-young-scientists/
Learn more at http://leavesofchangeweekly.org/2013/10/31/loblolly-woods-helps-teach-young-scientists/