Southern Urban and Interface Forests - What's New
Urban Forest Sustainability and Management Audit System
posted
Mar 26, 2019 05:09 PM
by
doutlaw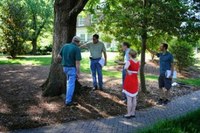 In 2014, Urban Forestry South developed and beta tested a new urban forest sustainability and management audit checklist and process (collectively referred to as an "audit system") at Agnes Scott College, a small woman's liberal arts college in Decatur, GA. Agnes Scott was a great location to try out this new system because it is a Tree Campus USA. This audit system is designed to provide a framework for internal (ad-hoc) audits by program managers or for independent evaluations by an external lead auditor and audit team.
Learn more at http://www.urbanforestrysouth.org/products/leaves/urban-forest-sustainability-and-management-audit-system/index_html
Leaves of Change Issue 12: The Tampa Bay Watershed: Building Understanding of a Rapidly Urbanizing Ecosystem
posted
May 31, 2018 03:19 AM
by
doutlaw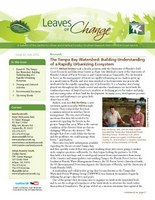 In this issue of our quarterly bulletin, titled Leaves of Change, you will learn about a collaborative project that is creating a scientific framework for the ecological assessment and sustainable management of the Tampa Bay watershed's trees and forested ecosystems along the urban-wildland continuum. You will also learn about the Centers' recent training and outreach activities, recommended resources, and upcoming events related to urban and interface forestry.
Learn more at http://www.urbanforestrysouth.org/products/leaves