Southern Urban and Interface Forests - What's New
2nd Changing Roles Webinar Series - Join us for our next webinar on Forest Cooperatives, September 27th, 12-1 pm EST
posted
May 31, 2018 03:23 AM
by
doutlaw
Scott Bagley, Program Director of the National Network of Forest Practitioners will give a webinar session on Forest Cooperatives. Join us for this one-hour session that will:
• highlight examples of how cooperatives are bringing more landowners into forestry, coordinating cross-boundary projects to enable treatment of small-acreage parcels, and maintaining stewardship continuity across generations.
• share information about the progress of a national roundtable of forest cooperative leaders who are working together to share lessons learned.
• describe how cooperatives are facilitating peer-to-peer learning, assisting landowners with climate change adaptation, and exploring ways to sustainably aggregate biomass.
• describe how cooperatives and other conservation and natural resources professionals can work together to conserve working forests and re-weave forested landscapes parcel by parcel.
Learn more at http://www.interfacesouth.org/products/changing-roles/changing-roles-webinar-series-2010
The Arbor Day Foundation's Backyard Woods program
posted
May 31, 2018 03:19 AM
by
doutlaw
The Arbor Day Foundation's Backyard Woods program is designed to assist landowners in conserving, beautifying, and utilizing their small woodland plot. The program's guide book includes detailed fact sheets on topics such as planning, wildfire protection, tree care, forest products, and wildlife. The "Backyard Woods: Bring You Vision to Life" guidebook is available for free download online in PDF, or a print copy can be ordered from the Arbor Day Foundation for $4.95 and includes a CD-ROM with twelve tip sheets. The Backyard Woods program is ideal for landowners with one to ten acres.
To learn more about the Backyard Woods program visit:
http://www.arborday.org/backyardwoods/index.cfm
To view or order the "Backyard Woods: Bring Your Vision to Life" guidebook visit:
http://www.arborday.org/backyardwoods/guide.cfm
PollinatorLIVE Webinar "Student Achievement and Outdoor Education", October 12, 3 - 4 pm EST
posted
May 31, 2018 03:19 AM
by
doutlaw
PollinatorLIVE is offering a free web seminar for teachers, administrators, and others on "Student Achievement and Outdoor Education" on Tuesday, October 12 from 3 to 4 p.m. through the National School Boards Association. For information, go to http://pollinatorlive.pwnet.org/teacher/seminars.php and to register go to http://www.surveymonkey.com/s/StudentAchievementOutdoorEducation.
This is an online web seminar presenting information about the positive impact that outdoor learning has on student achievement. Lifestyle changes over the past decade have had a profound affect on student health, activities, habits, and interests. School administrators, teachers, parents, and public health officials are growing increasingly concerned at the rising incidences of childhood obesity, juvenile diabetes, and related health problems. In contrast, the statistics about young people learning in the outdoors are very positive. George Mason University Assistant Professor Laurie Harmon, USDA Forest Service Urban and Community Program Specialist Mike Rizo, and Washington, D.C. Principal Dr. Grace Reid will present information on the benefits of gardening and outdoor education.
posted
May 31, 2018 03:19 AM
by
doutlaw
This video was developed by the NCLI Coalition to encourage increased environmental education opportunities at schools. The video celebraties environmental education and its impact on children's learning, health and leadership.
Learn more at https://www.youtube.com/watch?v=wRR1feHqZPY
2nd Changing Roles Webinar Series - Join us for the first webinar on September 20th, 12-1 pm
posted
May 31, 2018 03:19 AM
by
doutlaw
In this webinar session, Karen Firehock with the Green Infrastructure Center will: (1) describe the reasons, processes, and approaches for identifying and evaluating a community's natural resource assets and how to conserve them; (2)demonstrate why a green infrastructure planning approach is a useful way to conserve critical natural assets while channeling growth and development to more appropriate areas; (3) describe the role played by local governments and county foresters in natural resource assessment and stewardship; and (4) suggest how to apply natural resource asset maps within a locality's existing land planning tools and regulations to conserve key forest resources in developing landscapes.
Learn more at /products/changing-roles/changing-roles-webinar-series-2010
Changing Roles Webinar Series 2011
posted
May 31, 2018 03:19 AM
by
doutlaw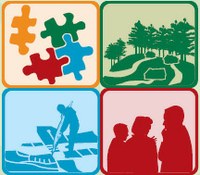 This 4-part webinar series will focus on the theme "Considering Natural Resources in Land-Use Decision Making Processes." Natural resource professionals often refer to "being at the table" in reference to their participation in multi-stakeholder processes such as land-use planning. Therefore we use the same language is used in the session titles of this series. Each session will address the theme from a different perspective.
Session Details:
October 12th, 12:00-1:00 pm EST
Why should we be at the table?Natural resource managers' perspective
(Susan Stein, Private Forest Studies Coordinator, US Forest Service)
October 17th, 12:00 pm-1:00 pm EST
Why we need you at the table? and How do you get to the table? Land-use planners' perspectives (Craig Diamond, Environmental Economist, Consultant)
November 10th, 12:00-1:00 pm EST
What happens when we are at the table together? A case study from Sumner County, Tennessee (Dwight Barnett, Area Forester, Tennessee Division of Forestry and Michael Briggs, Transportation Planner, Metropolitan Nashville Planning Department)
November 18th, 12:00-1:00 pm EST
What do you do when people start throwing food at the table? A conflict management perspective (Steve Smutko, Spicer Chair of Collaborative Practice, University of Wyoming, Department of Agriculture and Applied Economics)
Who should participate?
Natural resource professionals who want to learn more about wildland-urban interface issues, opportunities, and strategies.
Can I receive continuing education credit?
The CR webinar series provides a convenient, free professional development option for busy professionals who want to earn continuing education credits without paying travel expenses or taking time off work. Participants who log in to the liver session may be eligible for Society of American Foresters and International Society of Aboriculture continuing education credits. The archived sessions can be viewed for continuing education credits for up to one year.

Click here for session details and for more information on how to access the webinar. You can also earn more about the Changing Roles Professional Development program by clicking here.
ButterflyFest 2012 at the Florida Museum of Natural History
posted
May 31, 2018 03:19 AM
by
doutlaw
What a great time we had at the ButterflyFest in Gainesville, FL, October 13-14, 2012. Lots of kids came to greet us at our booth!
For more information visit: www.flmnh.ufl.edu/butterflyfest/