Southern Urban and Interface Forests - What's New
Urban Forest Sustainability and Management Audit System
posted
Mar 26, 2019 05:09 PM
by
doutlaw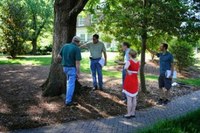 In 2014, Urban Forestry South developed and beta tested a new urban forest sustainability and management audit checklist and process (collectively referred to as an "audit system") at Agnes Scott College, a small woman's liberal arts college in Decatur, GA. Agnes Scott was a great location to try out this new system because it is a Tree Campus USA. This audit system is designed to provide a framework for internal (ad-hoc) audits by program managers or for independent evaluations by an external lead auditor and audit team.
Learn more at http://www.urbanforestrysouth.org/products/leaves/urban-forest-sustainability-and-management-audit-system/index_html
International Low Impact Development Conference 2015 - Synopsis
posted
Mar 10, 2015 09:13 AM
by
ekuehler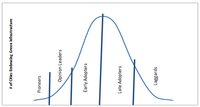 Trees and Green Infrastructure Performance
The goal of Green Infrastructure is to reduce stormwater runoff and pollutant loading to receiving waters.  Designed bioswales/bioretention structures have been shown to reduce runoff by as much as 97% annually mainly through soil infiltration and percolation.  Research from NC State has shown that as the amount of vegetation in these systems increases, pollution runoff decreases.
Trees can mitigate a portion of stormwater runoff through foliar interception and transpiration.  Even during the dormant season, tree achitecture can intercept a small portion of rainfall and direct the excess to the soil via stemflow.  Knowledge about the amounts of rainfall interception, transpiration, and stemflow in urban trees is lacking and more research is needed.  Design engineers are interested in using trees for their stormwater mitigation projects, but the lack of research regarding their ability to uptake nutrients and transpire water as well their vitality and longevity in these systems over time prevent them from including them as a green infrastructure best management protocol.
Factors Affecting Implementation of Green Infrastructure Technologies
Green Infrastructure extends beyond many departments within city government (stormwater management, streets, public works, parks and recreation, etc) and requires communication among all to properly plan, implement, and maintain. Most municipalities are set up in a bureaucratic system where coordination among departments is not common. The common question that cities are asking about Green Infrastructure is "Does it work" and "are we creating problems that we will have to fix later". Widespread use of GI is inhibited by various factors namely leadership (mayor, stormwater board, council, etc.), funding, technical capacity (adequately trained personnel), lack of technical information, risk aversion, fear of change, operation and maintenance concerns.
Where is Green Infrastructure in the Implementation Process?
Research was presented by Carli Flynn, a doctoral student from Syracuse University, showing where we are currently with GI implementation. She divided the population of all cities into five categories (pioneers, opinion leaders, early adopters, late adopters, and laggards) with respect to implementing Green Stormwater Infrastructure. Based on her survey results, it appears that we are still in the late pioneering section and entering the opinion leaders section (see figure). She suggested that the key components for municipalities to implement GI include leadership, collaboration, and education.