Southern Urban and Interface Forests - What's New
Leaves of Change Issue 13: iTree and Air Pollution in DeSoto County, Mississippi
posted
May 31, 2018 03:19 AM
by
doutlaw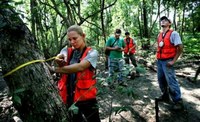 Across the South, rapid urbanization is transforming previously rural areas and creating new environmental challenges. Desoto County sits in the northwestern corner of Mississippi, across the state line from the city of Memphis. Since 1970, the county has experienced an increase in population of 430 percent, growing from 36,000 people in 1970 to 159,000 in 2010. Along with the population growth, urban development, roads, and traffic have increased tremendously and introduced serious air and water quality problems to the traditionally agricultural county.
The Environmental Protection Agency (EPA) has included Desoto County with Memphis in an ozone "non-attainment" area, meaning that ozone emissions are above allowable limits set by federal regulation. Ground level ozone, the main ingredient in smog, can trigger asthma attacks and causes lung damage. The ruling will likely mean that the state will have to take expensive actions to reduce pollution emissions from cars and commercial/industrial sources.
One group, led by the county extension director, Joy Anderson, is hoping that the urban tree canopy can play a part in the solution, and return Desoto County to attainment status. Working with Eric Kuehler, technology transfer specialist for Urban Forestry South, Desoto County conducted a series of iTree analyses including iTree Eco, Canopy and Vue. Using local volunteers and forestry students from Mississippi State University to collect the data, the county assessed over 250, 1/10th acre plots randomly located within five land class categories. The data allowed for an assessment of the structure, function, and value of the urban forest in terms of size and make-up of the urban canopy and its role in removing air pollution and sequestering carbon.
Learn more at http://www.urbanforestrysouth.org/products/leaves/itree-and-air-pollution-in-desoto-county-mississippi/index_html