Southern Urban and Interface Forests - What's New
Incorporating Forestry into Stormwater Management Programs
posted
Jan 14, 2020 12:05 PM
by
ekuehler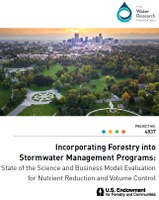 Stormwater utilities were interested in learning how viable urban forest systems are in helping them manage stormwater runoff, so the Water Research Foundation and U.S. Endowment for Forestry and Communities commissioned a study. The overall goal of this project was to document the contribution of urban tree systems to stormwater nutrient and volume control in terms of their effectiveness at various scales, cost, desirability, and practicality. An associated set of tools was developed to enable water utilities and other stormwater professionals to apply project findings, including: (1) simplified models to predict event and annual runoff reductions by urban tree canopy, (2) an urban tree cost-benefit value database, and (3) an urban forest hydrology curricula targeted to utilities to more effectively integrate urban tree systems within stormwater management frameworks.
Learn more at https://www.waterrf.org/research/projects/incorporating-forestry-stormwater-management-programs-state-science-and-business
Partnership champions nature at children's hospital
posted
Nov 07, 2019 02:12 PM
by
ahermansen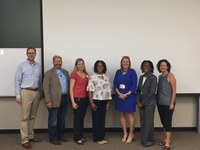 On August 22, the National Environmental Education Foundation partnered with the USDA Forest Service and UF Health Shands Children's Hospital in Gainesville, Florida, to host a Nature Champion Training in anticipation of the long-awaited Nature Explore Classroom currently under construction at Shands. This outdoor classroom, the UF Health Children's Healing Garden, is a nature-based play and learning space designed to promote health by creating nature connections for patients, children, families and medical staff. This project is funded by the Washington Office, Region 8 and private donors. The Forest Service has a national-level partnership with the Dimensions Educational Research Foundation related to the Nature Explore program and has sponsored the building of Nature Explore classrooms at strategic locations around the country.
Learn more at https://www.fs.fed.us/inside-fs/delivering-mission/deliver/partnership-champions-nature-childrens-hospital
Urban Tree Canopy Assessment: A Community's Path to Understanding and Managing the Urban Forest
posted
Oct 03, 2019 12:36 PM
by
ahermansen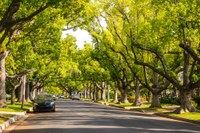 An Urban Tree Canopy (UTC) assessment provides a measure of a community's tree canopy cover at high resolution, and is often used for establishing and implementing municipal tree canopy goals as part of broader urban greening and sustainability initiatives. The USDA Forest Service has produced a new report detailing the initial steps of UTC project planning, assessment, and data analysis, including general guidelines for conducting assessments and analysis to ensure useful, quality results that can be applied in planning, management, and decision-making .The report can be accessed on the Vibrant Cities Lab, an innovative multi-faceted web platform that can help professionals, policymakers, and the public access the best available science, understand the value of investing in our urban and community forests, and take concrete steps to plant better, more effective and efficient urban and community forestry programs.
Learn more at https://www.vibrantcitieslab.com/resources/forest-service-guide-to-urban-tree-canopy-assessment/
Urban Nature for Human Health and Well-being
posted
Mar 27, 2019 12:12 PM
by
doutlaw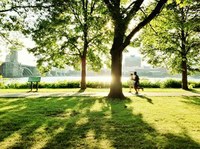 Urban Nature for Human Health and Well-Being, a new report by the USDA Forest Service's National Urban Forestry Technology and Science Delivery Team, shares the most current research related to nature and public health, providing a resource to help natural resource professionals, health professionals, urban planners, architects, educators, and community groups effectively communicate the health benefits of nature to their constituents. The report provides an overview of the current research in five key areas: pollution and physical health, active living, mental health, stress reduction, and social health, cohesion, and resilience, and discusses issues of social equity and access to nature in urban environments.
Learn more at http://www.vibrantcitieslab.com/resources/urban-nature-for-human-health-and-well-being/
Kids in the Woods team awarded City of Gainesville 2018 Star Good Neighbor Award
posted
Mar 27, 2019 12:13 PM
by
doutlaw

The City of Gainesville Parks, Recreation and Cultural Affairs presented the Star Good Neighbor Award to the Kids in the Woods team on March 26, 2019.
National Team Takes a Unique Approach to Urban Forest Techonology and Science Delivery
posted
Mar 27, 2019 09:15 AM
by
doutlaw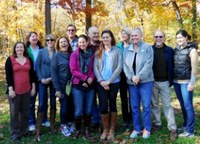 The Forest Service's National Urban Forest Technology and Science Delivery Team (NTSD) was formed in November 2013 with the goal of improving the agency's ability to deliver state-of-the-knowledge information to city planners and natural resource practitioners, in the most rapid and accessible ways possible.
Learn more at http://www.urbanforestrysouth.org/products/leaves/national-team-takes-a-unique-approach-to-urban-forest-technology-and-science-delivery/index_html
Leaves of Change Issue 20: Project attempts to stem the tide of African-American land loss through active forest management
posted
Mar 27, 2019 09:15 AM
by
doutlaw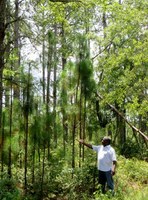 In this issue of Leaves of Change, we describe a research study conducted in association with community-based projects in three southern states that are a part of the Sustainable Forestry and African American Land Retention Program (a collaborative effort between the U.S. Endowment for Forestry and Communities, the USDA Forest Service, and the Natural Resource Conservation Service). This study is helping to improve our understanding of African American land ownership and African American participation in sustainable forestry.
Learn more at https://urbanforestrysouth.org/products/leaves/project-attempts-to-stem-the-tide-of-african-american-land-loss-through-active-forest-management/index_html
Kids in the Woods Team Garners Regional Partnership Award
posted
Mar 27, 2019 09:15 AM
by
doutlaw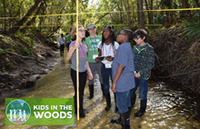 The Kids in the Woods partnership was recently awarded the USFS Southern Research Station Director's Partnership Award in recognition of outstanding and innovative approaches to partnerships with the Kids in the Woods Program at Westwood Middle School in Gainesville, FL. Partners include the USDA Forest Service, University of Florida, Alachua County School District, Gainesville Parks, Recreation, and Cultural Affairs, and Alachua County Environmental Protection Department.
Learn more at http://www.gainesville.com/article/20160112/ARTICLES/160119868/0/search
Recent Updates: Urban Forest Sustainability & Management Review
posted
May 29, 2018 06:47 AM
by
dhartel
Since its development at Agnes Scott College in 2014, the urban forest sustainability and management review (UFSMR) system continues to evolve and expand.  Updates have been made to reflect use in Raleigh (NC) and Austin (TX), and at U&CF Coordinator meetings in Mobile (AL) and Charleston (SC).  The most recent versions of documents and tools can be found at these links:
[23Feb17 Austin]
Coastal Green Stormwater Infratructure: Wetlands in Wilmington
posted
Oct 27, 2015 08:12 AM
by
dhartel
NC stormwater managers evaluate wetlands in coastal watersheds.  As reported in the Journal of Environmental Quality, "eight storms [were monitored] and showed that the Wade Park Wetland retained and/or removed 50 to 75% of the inflowing volume of runoff. The average load reduction for fecal coliform bacteria was 99%, with an overall concentration reduction of more than 90%".  Additional studies look at wet detention pollution removal rates.
Learn more at http://foresternetwork.com/daily/water/stormwater/rain-gardens-and-green-infrastructure-help-wetlands/