Southern Urban and Interface Forests - What's New
Urban Tree Risk & Disasters:VRMP & UTRI
posted
Mar 11, 2019 03:08 PM
by
dhartel
UTRI – Risk zones, assessments, and mitigation
Picking up with the discussion from the December 6th webinar, we will demonstrate and discuss the GIS processes for each of the UTRI layers (vector to raster conversions, assigning relative ranks for each layer, and the map algebra step) leading to the final UTRI for each street segment. This webinar will also discuss field verification, ANSI A300 risk assessment levels used, and mitigation recommendations and prioritization.
When: Thursday, Dec 13, 2012 2:00 PM (EST) - Duration: 1:00
Presenters: Rachel Barker & Dudley Hartel
Meeting time: Dec 13, 2012 2:00pm EST (Thursday) - Access beginning at 1:00PM EST
DOWNLOADS:
Check on Tuesday the 12th for handouts to download.
AUDIO INFORMATION:
USA Toll-Free: 888-858-2144
Access Code: 2358744
1. Dial the Conference Toll-Free Number
2. Enter Access Code 2358744#
Learn more at https://www.livemeeting.com/cc/usda/join?id=WF3KWT&role=attend&pw=j%7E%7B%608C9%5Cj
Urban Tree Risk & Disasters: Vegetative Risk Management Plan & UTRI
posted
Dec 06, 2012 10:07 AM
by
dhartel
URTI – Getting started & data and data preparation
Following a very brief introduction to the Vegetation Risk Management Plan (VRMP) and the Urban Tree Risk Index, we will discuss the sources and basic preparation of data needed to produce the tree risk zone map with UTRI used for pre-storm mitigation and planning.
When: Thursday, Dec 6, 2012 2:00 PM (EST)
Duration: 1:00
https://www.livemeeting.com/cc/usda/join?id=26PH3D&role=attend&pw=j%7E4B3CD%7Dt
Meeting time: Dec 6, 2012 2:00 PM (EST)
AUDIO INFORMATION
USA Toll-Free: 888-858-2144
Access Code: 2358744
1. Dial the Conference Toll-Free Number
2. Enter Access Code 2358744#
Quick Tip - hit # to bypass announcements
FIRST-TIME USERS
To save time before the meeting, check your system to make sure it is
ready to use Microsoft Office Live Meeting.
http://go.microsoft.com/fwlink/?LinkId=90703
Learn more at https://www.livemeeting.com/cc/usda/join?id=26PH3D&role=attend&pw=j%7E4B3CD%7Dt
Leaves of Change Issue 13: iTree and Air Pollution in DeSoto County, Mississippi
posted
May 31, 2018 03:19 AM
by
doutlaw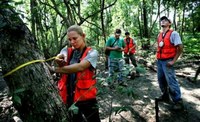 Across the South, rapid urbanization is transforming previously rural areas and creating new environmental challenges. Desoto County sits in the northwestern corner of Mississippi, across the state line from the city of Memphis. Since 1970, the county has experienced an increase in population of 430 percent, growing from 36,000 people in 1970 to 159,000 in 2010. Along with the population growth, urban development, roads, and traffic have increased tremendously and introduced serious air and water quality problems to the traditionally agricultural county.
The Environmental Protection Agency (EPA) has included Desoto County with Memphis in an ozone "non-attainment" area, meaning that ozone emissions are above allowable limits set by federal regulation. Ground level ozone, the main ingredient in smog, can trigger asthma attacks and causes lung damage. The ruling will likely mean that the state will have to take expensive actions to reduce pollution emissions from cars and commercial/industrial sources.
One group, led by the county extension director, Joy Anderson, is hoping that the urban tree canopy can play a part in the solution, and return Desoto County to attainment status. Working with Eric Kuehler, technology transfer specialist for Urban Forestry South, Desoto County conducted a series of iTree analyses including iTree Eco, Canopy and Vue. Using local volunteers and forestry students from Mississippi State University to collect the data, the county assessed over 250, 1/10th acre plots randomly located within five land class categories. The data allowed for an assessment of the structure, function, and value of the urban forest in terms of size and make-up of the urban canopy and its role in removing air pollution and sequestering carbon.
Learn more at http://www.urbanforestrysouth.org/products/leaves/itree-and-air-pollution-in-desoto-county-mississippi/index_html
Encouraging More Kids in the Woods
posted
Apr 11, 2019 11:47 AM
by
doutlaw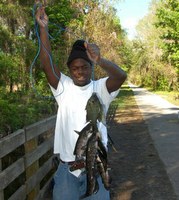 View our articles, fact sheets, and other publications that we have written about children and nature, including topics such as the benefits of outdoor activity in children and fun family activities to do outside.
Healing Places, Healing Spaces
posted
Sep 30, 2012 07:20 PM
by
dhartel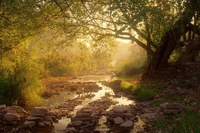 Beginning with Dr. Roger Ulrich, Center for Health Systems and Design, in "View Through a Window..." nature/health research has highlighted the "obvious" but difficult to quantify benefits of natural settings (including urban forests) for physical and psychological well being.
Dr. Esther Sternberg is Research Director at the Arizona Center for Integrative Medicine at the University of Arizona in Tucson. Her books include Healing Spaces: The Science of Place and Well Being, and The Balance Within: The Science Connecting Health & Emotions
Listen to: The Science of Healing Places with Dr. Sternberg, On Being (30Sep12 American Public Media via NPR).  "The light and smells in places like hospitals can often depress us. And, our favorite room at home keeps us sane. But why? Immunologist Esther Sternberg explains the scientific research revealing how physical spaces create stress and make us sick — and how good design can trigger our "brain's internal pharmacies" and help heal us." [APM On Being Website]
Dr. Kathleen Wolf, Projects Director at Human Dimensions of Urban Forestry and Urban Greening (School of Environmental and Forest Sciences, University of Washington) documents and investigates the human/nature connection at Green Cities: Good Health.  "Metro nature - including trees, parks, gardens, and natural areas - enhance quality of life in cities and towns. The experience of nature improves human health and well-being in many ways. Nearly 40 years of scientific studies tell us how." [K Wolf Website]
Photo by Joel Bedford, Flickr, Creative Commons by-nd

Susan Granbery (GFC) and Paul Revell (VDOF) Receive NASF Awards
posted
Sep 25, 2012 03:48 PM
by
dhartel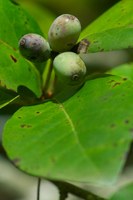 Susan Granbery, Urban and Community Forestry Coordinator, Georgia Forestry Commission was selected for the Austin Short Current Achievement Award for Communications.  Susan was recognized for her successful efforts over the past two years to expand The American Grove, an online urban and community forestry community.
Paul Revell, Urban & Community Forestry Coordinator, Virginia Department of Forestry received the Stewart Pequignot Current Achievement Award for Urban Forestry.  Paul ... has developed and managed an excellent and productive program in Virginia. His leadership and contributions on the state, regional and national level, have helped educate decision makers about the value of urban and community forestry and how it improves the overall health of a community.
Awards were presented at the NASF 2012 Annual Meeting in Cheyenne, Wyoming last week.  Each year NASF members nominate individuals for awards representing different categories that reflect the work they have done to promote, support and strengthen the forestry community nationwide.
Full story and additional state awards at: NASF
Urban Soils - Research at Morton Arboretum
posted
Sep 05, 2012 01:09 PM
by
dhartel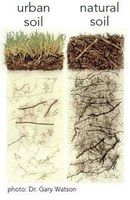 Learn more at http://www.mortonarb.org/urban-soil-science.html
Essential Resources for Urban Tree Risk Management
posted
Aug 30, 2012 08:50 AM
by
dhartel
Recent publication of ANSI standards and BMPs for urban tree risk management makes it imperative that the profession change and adapt.
Urban Tree Risk Management: A Community Guide to Program. Design and Implementation, NA-TP-03-03, J.D. Pokorny (Coordinating Author), 2003 [http://1.usa.gov/OHL8QV]
ANSI A300 (Part 9) Tree Risk Assessment a. Tree Structure Assessment, TCIA, 2011 [http://bit.ly/U904tl]
Best Management Practices: Tree Risk Assessment, E.T. Smiley, N. Matheny, and S. Lilly, International Society of Arboriculture, 2012 [http://bit.ly/PMCimI]
Example Tree Risk Specifications for Municipalities and Arborists
posted
Aug 05, 2012 10:17 AM
by
dhartel
Even an arborist can develop apps for Android smart-devices with this on-line site developed and hosted by MIT.
A Google account and a quick setup on Mac or Windows will get you started.  Use the on-line tutorials and forum to jump-start your creativity.
Learn more at http://explore.appinventor.mit.edu/
posted
May 28, 2018 09:31 PM
by
doutlaw

The website for Urban Forestry South (southern region's technology transfer center) has been rebuilt from the ground up.  New content will appear daily as we catch up following our transition.
Much of the site will look familiar but you'll now have a more active site with current blog and Twitter feeds related to the technology of trees.
Learn more at https://urbanforestrysouth.org