Tree Observers Needed!
posted
Feb 14, 2013 04:41 PM
by
dhartel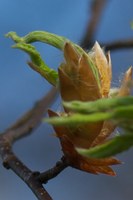 Maples, Oaks, and Poplars - Special Campaign
Help scientists and natural resources managers track the "green wave" —the flush of green that accompanies leaf-out –over the course of the spring season, and the spread of seasonal color across the country in the autumn. Observations of individual plants, taken on the ground, can help decision makers develop forecast models and early warning systems for use in forest management and public health administration via pollen forecasting.
Follow the link to the National Phenology Network's special campaign page to see the list of recommended species that will paint a national picture of the 2013 "green wave".
Photo: budburst on Fagus grandifolia in Wooster, Ohio (20Apr12)
Learn more at http://www.usanpn.org/MOP