Urban Forestry South - What's New
Recent Updates: Urban Forest Sustainability & Management Review
posted
Feb 23, 2017 08:46 AM
by
dhartel
Since its development at Agnes Scott College in 2014, the urban forest sustainability and management review (UFSMR) system continues to evolve and expand.  Updates have been made to reflect use in Raleigh (NC) and Austin (TX), and at U&CF Coordinator meetings in Mobile (AL) and Charleston (SC).  The most recent versions of documents and tools can be found at these links:
[23Feb17 Austin]
Coastal Green Stormwater Infratructure: Wetlands in Wilmington
posted
Oct 27, 2015 07:12 AM
by
dhartel
NC stormwater managers evaluate wetlands in coastal watersheds.  As reported in the Journal of Environmental Quality, "eight storms [were monitored] and showed that the Wade Park Wetland retained and/or removed 50 to 75% of the inflowing volume of runoff. The average load reduction for fecal coliform bacteria was 99%, with an overall concentration reduction of more than 90%".  Additional studies look at wet detention pollution removal rates.
Learn more at http://foresternetwork.com/daily/water/stormwater/rain-gardens-and-green-infrastructure-help-wetlands/
Urban Forestry, ArcGIS Domains, and ArcGIS Online (AGOL)
posted
Sep 09, 2015 05:05 PM
by
dhartel
Domains are geodatabase components designed to make GIS editing tasks faster and more accurate ensuring integrity of your database and reliability of all products derived from that data.  Domains also "transfer" to ArcGIS Online (AGOL) providing field data collection (through ESRI Collector) with the same benefits as desktop operations.
This series of Urban Forestry South resources:
International Low Impact Development Conference 2015 - Synopsis
posted
Mar 10, 2015 08:13 AM
by
ekuehler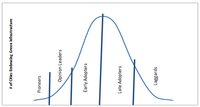 Trees and Green Infrastructure Performance
The goal of Green Infrastructure is to reduce stormwater runoff and pollutant loading to receiving waters.  Designed bioswales/bioretention structures have been shown to reduce runoff by as much as 97% annually mainly through soil infiltration and percolation.  Research from NC State has shown that as the amount of vegetation in these systems increases, pollution runoff decreases.
Trees can mitigate a portion of stormwater runoff through foliar interception and transpiration.  Even during the dormant season, tree achitecture can intercept a small portion of rainfall and direct the excess to the soil via stemflow.  Knowledge about the amounts of rainfall interception, transpiration, and stemflow in urban trees is lacking and more research is needed.  Design engineers are interested in using trees for their stormwater mitigation projects, but the lack of research regarding their ability to uptake nutrients and transpire water as well their vitality and longevity in these systems over time prevent them from including them as a green infrastructure best management protocol.
Factors Affecting Implementation of Green Infrastructure Technologies
Green Infrastructure extends beyond many departments within city government (stormwater management, streets, public works, parks and recreation, etc) and requires communication among all to properly plan, implement, and maintain. Most municipalities are set up in a bureaucratic system where coordination among departments is not common. The common question that cities are asking about Green Infrastructure is "Does it work" and "are we creating problems that we will have to fix later". Widespread use of GI is inhibited by various factors namely leadership (mayor, stormwater board, council, etc.), funding, technical capacity (adequately trained personnel), lack of technical information, risk aversion, fear of change, operation and maintenance concerns.
Where is Green Infrastructure in the Implementation Process?
Research was presented by Carli Flynn, a doctoral student from Syracuse University, showing where we are currently with GI implementation. She divided the population of all cities into five categories (pioneers, opinion leaders, early adopters, late adopters, and laggards) with respect to implementing Green Stormwater Infrastructure. Based on her survey results, it appears that we are still in the late pioneering section and entering the opinion leaders section (see figure). She suggested that the key components for municipalities to implement GI include leadership, collaboration, and education.
Arborists and Disaster Preparedness...
posted
Oct 08, 2014 12:43 PM
by
dhartel
Over 300 arborists attended the Mid-Atlantic Chapter of the International Society of Arboriculture (MAC-ISA) in Blacksburg, Virginia on October 6th and 7th.  The field day included several ANSI A300 presentations along with insect & disease, safety, soil, and other workshop topics.  Urban Forestry South (Dudley Hartel) presentation material for the workshop and conference include:
Urban Forest Strike Teams continue to evolve...
posted
Oct 30, 2014 01:06 PM
by
dhartel
The Urban Forest Strike Team (UFST) program was developed by state forestry agencies and the U.S. Forest Service in the Southern Region (Region 8) and is now being implemented in the northeastern and midwestern states (USDA FS Region 9, NA) with their partner the Massachusetts Tree Wardens & Foresters Association. Urban Forest Strike Teams provide professional recovery services to communities following ice storms, hurricanes, and other natural disasters. The UFST process includes recruiting, training, and deploying professional urban foresters and arborists to assess tree damage using FEMA guidelines and tree risk assessment standards.
Recently, the Arkansas Forestry Commission published their UFST resources into the Emergency Management Assistance Compact (EMAC), and the Virginia Department of Forestry is completing that process now.
On June 16th, the American Planning Association, International Society of Arboriculture, Utility Arborists, and USDA Forest Service (lead by the Northeaster Area) held a scoping session with FEMA, the Army Corps of Engineers, USDA disaster recovery directors, and others to discuss the management of trees an urban forests following natural disasters.
During the week of September 22nd, UFST team leaders, task specialists, workshop trainees and instructors conducted a mock disaster exercise in conjunction with the Georgia Emergency Management Agency (Dick Stokes, EMAC), the Georgia Forestry Commission (Susan Granbery), the Savannah Emergency Manager (Dan Stowers), and the City of Savannah arborist division (Jerry Fleming).
We introduced two new technologies to the participants in this 2 day exercise.  First, for most, was an introduction to ANSI A300 Part 9 level 1 risk assessment into our established UFST tree risk assessment protocol.
And second, with the assistance of the Georgia Forestry Commission (Charles Bailey), we tested the feasibility of using ArcGIS Online (AGOL) for UFST tree assessments.  Five exercise participants used a variety of smartdevices (iPad, Samsung Galaxy & Note smartphone, and Panasonic Toughpad to collect several hours of data.  This test was a good real-world experience and gave us very promising results in terms of ease of use and data accuracy using GPS or digitizing in the field.
We will continue to test useability and accuracy over the next few weeks with hopes of a full scale UFST test at the Fayetteville (AK) mock exercise in late November.
Northern Virginia Urban Forestry & Disaster Planning
posted
Feb 22, 2014 11:22 AM
by
dhartel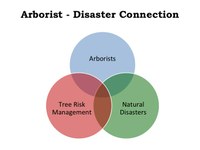 Nebraska Arborists Prepare for Disaster
posted
Jan 27, 2014 04:05 PM
by
dhartel
At the Great Plains Conference in Lincoln, the Nebraska Arborists Association heard from several speakers on the topics of tree risk.  The links that follow are presentations by Urban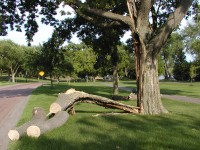 Forestry South (Dudley Hartel) on the role of professional arborists in disaster preparedness and response:
Planning for Disaster - Arborists Professional Role
Disaster Response – UFST and Municipal Arborists
Handouts included:
Disaster Resources for Urban Foresters
Bonnie Appleton Memorial Fund
posted
Jan 29, 2015 09:47 AM
by
dhartel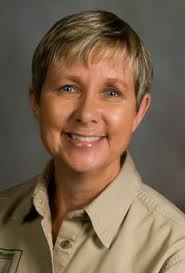 "Bonnie Appleton was an inspiring person to her students and to the industries that she worked with.  Her research bridged many fields from horticulture and arboriculture to nursery and landscape management, landscape design and utility arboriculture.  Bonnie was a frequent speaker at chapter and national ISA events and was also involved in the development of the ISA certification program.  Her passing has been felt in the green industry across the US and internationally, we miss her passion and advocacy for horticulture and arboriculture education and research.
"To honor Bonnie, the legacy of her research, and her mentoring of many students; the Bonnie Appleton Memorial Fund was recently established at the TREE Fund.  The fund will be used to sponsor scholarships to help support undergraduate students continuing in her footsteps to benefit the green industry." B. White, VDOF
Portland's Green Infrastructure Featured
posted
Jul 15, 2013 09:37 AM
by
dhartel
The current issue of Stormwater discusses Portland (OR) green infrastructure projects and the three components for success:
engaged, (GI) supportive local government
development community that recognizes the benefits
design community that can implement green projects
The Downspout Disconnect and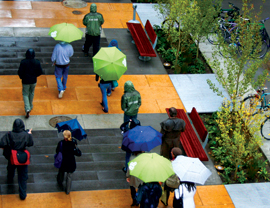 Green Streets programs are at the heart of their CSO (combined sewer overflow) solution.
See other LID resources at Stormwater (magazine).
Photo Credit: Nevue Ngan
Learn more at http://www.stormh2o.com/SW/articles/21998.aspx